Just like his debut test, Kuldeep Yadav secured a 4-wicket haul in the first innings of his second test as well and his wonderful spell left Sri Lanka in dire straits on the second day in Pallekele.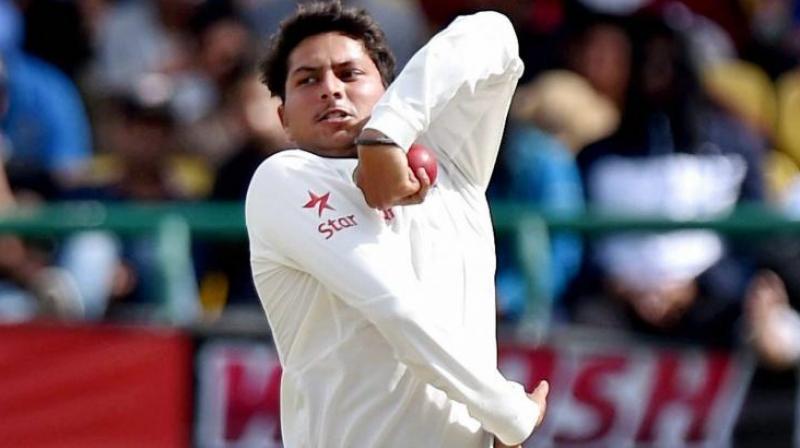 The stand-out thing about Kuldeep's bowling was the heart with which he bowled.
When he initially tried to loop the ball, the Sri Lankan batsmen came at him and hit him for a few boundaries, but, the youngster didn't get intimidated.
Normally for someone who hasn't had that much of exposure in test match Cricket, it's very easy to take the safety first approach and start pushing the ball through rather than looping it so that he doesn't go for too many boundaries.
But Kuldeep didn't show any reluctance in looping it again and that fetched him the rewards as the Sri Lankan glove-man Niroshan Dickwella who had been lofting him pretty convincingly failed to read the flight properly on one occasion giving his counterpart Wriddhiman Saha the opportunity to catch him outside the crease.
It was Kuldeep's variation, that delivery. It wasn't his normal Chinaman. It was the one going the other way and it would have blinded Saha for a second because the ball went between the batsman's bat and pads, but, he is too good a keeper to miss out even on a difficult stumping like that. Grabbing the ball ball as cleanly as ever, he shook the furniture in a jiffy making sure Kuldeep had his first prey of the day.
The UP lad went on to have three more thereafter as he finished with the best figures of what is only a 2-game old test career of his at the moment.
He would surely be looking for a few more tomorrow as Sri Lanka is following on.